Unconcerned with sleep or rest, artist RM Palaniappan worked on his paintings for many nights.
Inspired by his fascination with aeronautics and notation systems, his works imbued a sense of abstraction as places and objects were reduced to lines and their subtle essence. Sometimes it looked like he was done with the painting, but again he painted on the canvas and started the painting process again.
"We see human culture primarily in physical manifestations such as buildings, streets and statues," he said. "But the psychological perception of culture dominates my works. I want to capture the essence of the culture I care about on my canvas. But my mind is constantly changing.
Palaniappan was part of an international artist residency program organized by Unnati Cultural Village (UCV) and the Raza Foundation, in which five Indian artists stayed at UCV in the municipality of Gaindakot, Nawalpur, for nearly three weeks, from April 4 to April 24. The other four artists—Amitava Das, Manish Pushkale, Tanmoy Samanta and Wahida Ahmed—are renowned Indian artists who have participated in numerous national and international artist residency programs. After a brief visit to Patan, Bhaktapur and Kathmandu after arriving in Nepal, the artists spent the majority of their stay in the serene environment of UCV, immersed in their surroundings and focused on their art. They created three works of art each, using acrylic or oil paints, on stretched canvas.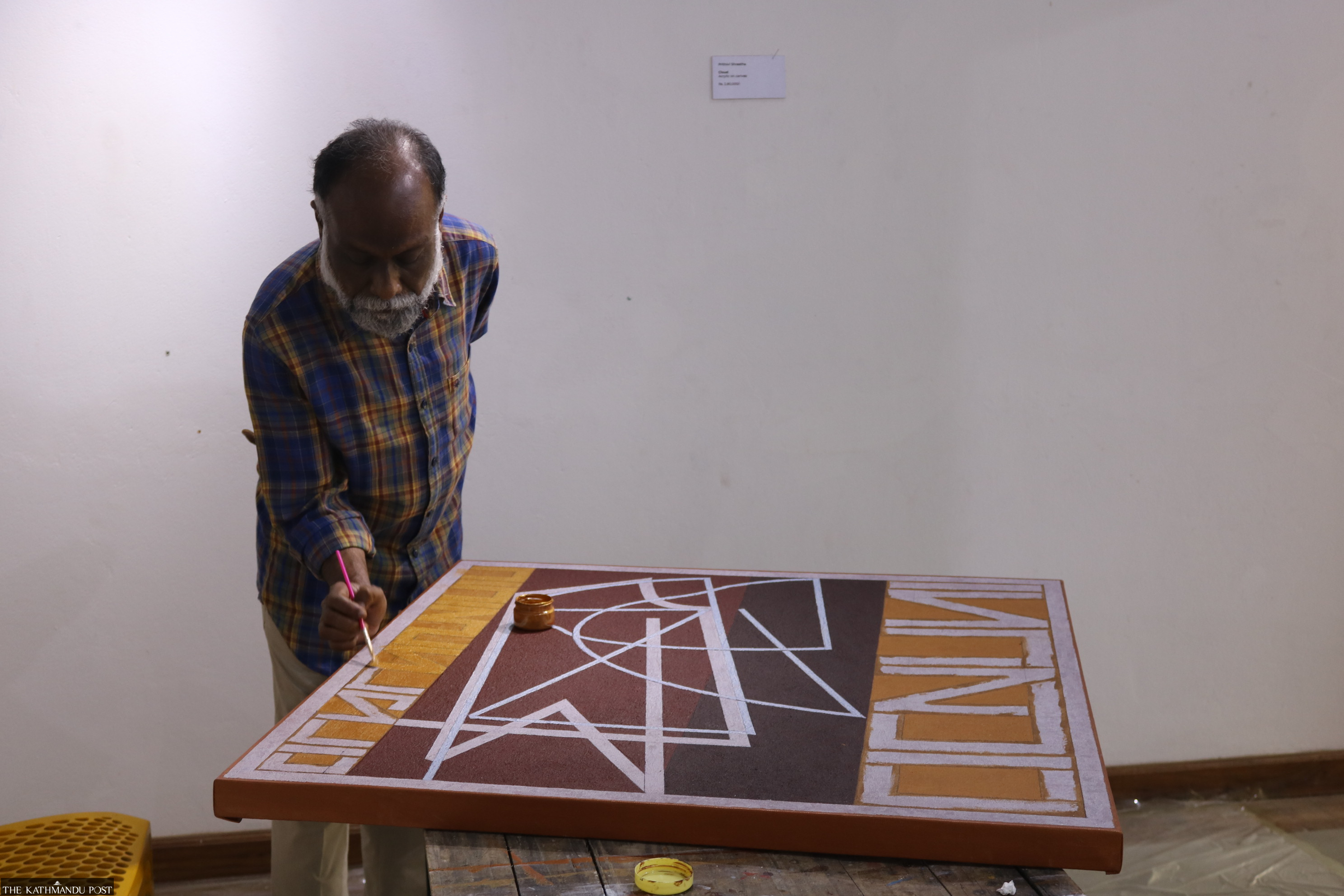 RM Palaniappan, one of the artists in the residency program, working on his painting. Shranup Tandukar/TKP
On a property that spans six bighas of land, UCV is an idyllic destination designed to be a retreat in nature and a place that fosters artistic inspiration. Established in March 2021, UCV is home to a Nepali arts museum, Tharu culture-style halls, open-air art museum spaces for local artists, a studio space for artists, an organic garden and finally Kala Ghar, which houses rooms made for art lovers.
Amrit Karki, an independent curator and artist, was the curator of the artistic residency program. Having worked as a curator in various art exhibitions before, including "Tribute", a mixed art exhibition in 2017 at the Taragaon Museum, he believes that curators have the ability to bring artists' works to the forefront of the world. art. "A curator's job is not just to highlight works of art, but also to highlight them. I noticed a lack of such skills among curators in Nepal, so I started developing curatorial skills on my own, even though my priority is to create art myself." he declared.
Karki shares that art residencies have the ability to inspire artists because of the freedom as well as the limitations they provide. "The time limit in art residencies can create new inspiration, but artists also have the freedom to explore beyond their comfort zone."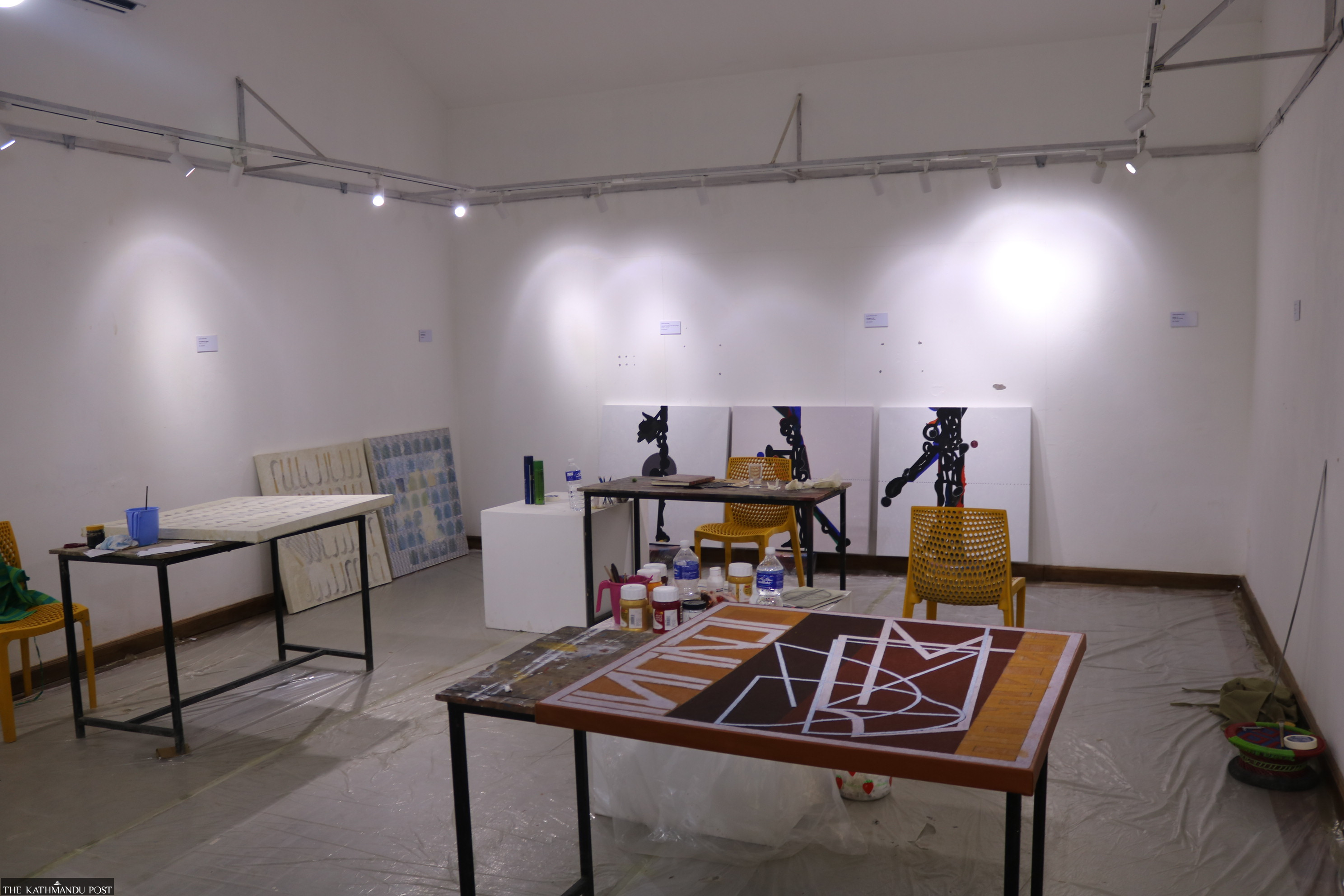 The studio where the artists worked on their paintings. Shranup Tandukar/TKP
Manish Pushkale, one of India's most beloved painters, believes that art residencies create an ideal internal and external environment for artists to explore their creativity.
"Artistic residencies usually take place near nature or creative hubs in cities. Such venues create an external environment conducive to artistic expression," he said. "However, another factor regarding art residencies is that artists have the freedom to explore and create art as they see fit without any restrictions to have internal dialogues about their artistic vision."
Pushkale, in his works, carries a strong sense of abstraction. He had no academic training in art, but he didn't let the lack of academic know-how get in the way. As a child, he used to run away from his classes and sneak into the premises of Bharat Bhavan, a self-contained multi-art complex and art museum in Bhopal, India. These travels would eventually instill a deep-rooted passion for art, and although he became a trained geologist, the love of art eventually made him change careers.
"I think art institutions and places like UCV, which encourage artistic endeavours, are extremely important to a society. I am a living example of how exposure to art, especially contemporary art, in museums and art institutions for young children can instill a deep appreciation for art and create more artists in society," Pushkale added.
New Delhi-based artist Amitava Das has been involved in the art world for over 50 years. He was one of the most experienced artists in the artist residency program, but he thinks age doesn't matter that much in art.
« Art has no age and it is eternal. You cannot determine the artistic abilities of artists based on their age," he said.
There is an important theme of the dual nature of human beings in Das' paintings. The possibility that human beings are both saviors and destroyers of the world fascinates him, and this fascination is often reflected in his works.
However, in the art residency program, he tried to drop his usual approaches to his art and let himself be guided by the environment and local influences.
"Artists usually work in their own studio, which is specifically tailored to their tastes. However, here[in UCV], the space is totally different and it's very, very difficult," he said. "We can devote all our time to art, and since we are with other artists, we can also learn from each other. We use different techniques and mediums in our art, and we can learn new things from observation.
The sentiment that art residencies create an effective learning environment for established artists is also echoed by fellow artist Wahida Ahmed. "We all knew each other before being part of this art residency because we are part of the same artistic brotherhood," Ahmed said. "However, we haven't had the opportunity to observe each other closely or understand how each of us approaches art before this."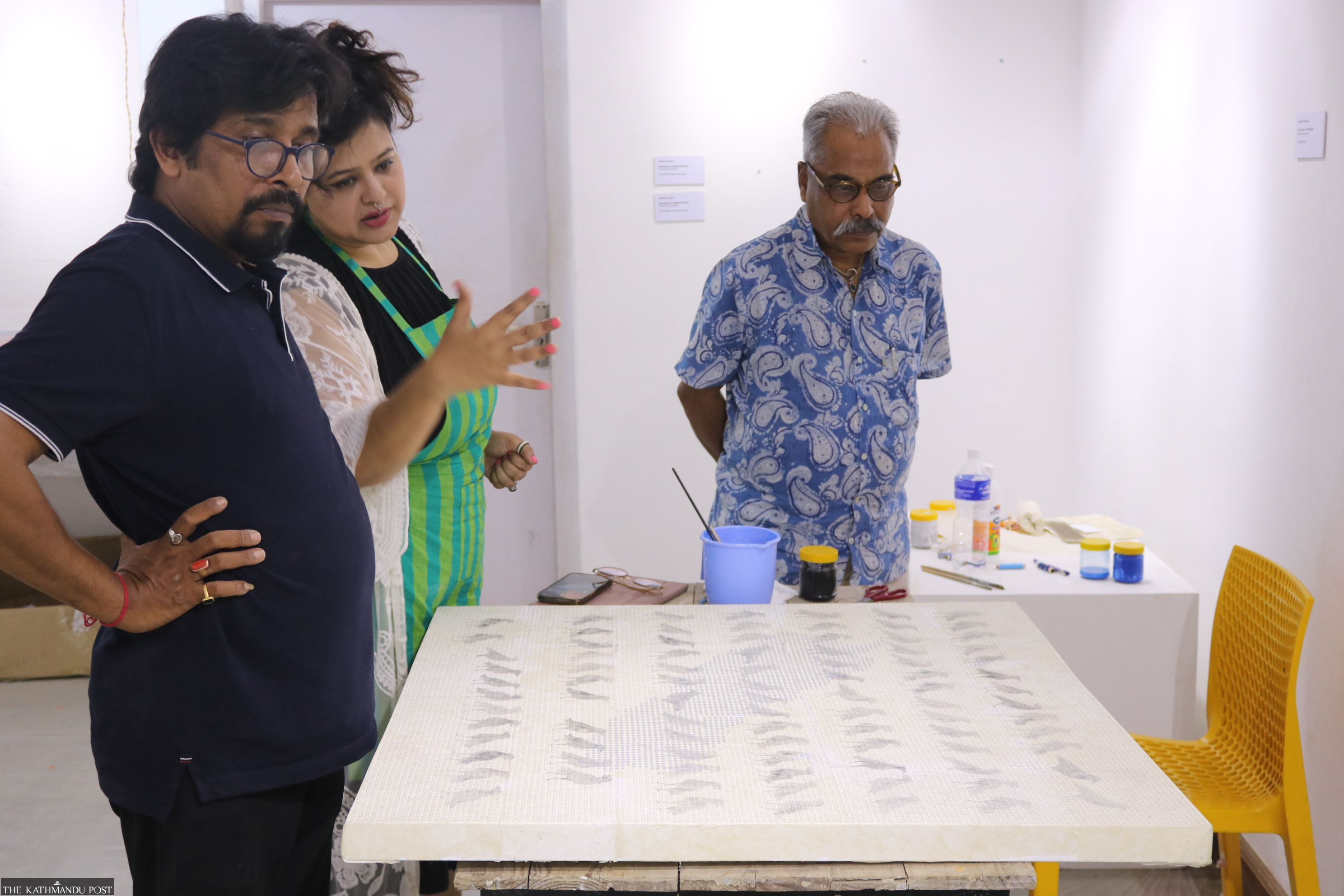 (Left to right) Manish Pushkale, Wahida Ahmed and Amitava Das discuss Ahmed's painting. Shranup Tandukar/TKP
Ahmed is an artist based in Assam, India, and she tries to incorporate the indigenous and local elements of Assam into her works. She is particularly fond of the idea of ​​weaving, which is an integral part of Assamese culture, as she tries to create works of art using the techniques and traditions of weaving. Themes of mythological references to classical texts and images of contemporary times are prominent in his works.
In one of the works she made during the artist residency, several images of crows are placed on a dotted map of Nepal. The duality of crows – both harbingers of good and bad news – was emphasized by showing the faces of crows in different directions. In another, she dissected the map of Nepal and overlaid the parts on a dotted pattern and window images to create another version of Nepal.
Tanmoy Samanta's works are imbued with symbolism and his themes often feature geometric abstraction. An artist based in West Bengal, India, he was interested in art from an early age and his parents also encouraged his passion for the arts. His artistic journey began in Kala Bhavan, West Bengal and he also trained at Kanoria Arts Centre, Ahmedabad.
As a participant in numerous national and international art residencies, he believes that art residencies are important milestones in an artist's life.
"Compared to art residencies in Spain or the United States, this art residency in Nepal is like living an extension of India. The surroundings are similar, but I experience them here in different ways," Samanta said. "The goal of a residency program is not to have an end product. It is a space and time given to artists to engage in the process of expanding and enriching their artistic visions.
Pushkale, administrator of the Raza Foundation, had visited UCV in February as part of preparations for the artist residency program. He believes that artist residency programs like this are important as a bridge between two different cultures, communities and even nations.
"This initiative by UCV and our Raza Foundation is a stepping stone towards a more interactive relationship between Indian and Nepali artists," he said. "We have planned more residency programs like this in the future, and we plan to expand them to create an environment conducive to the arts."